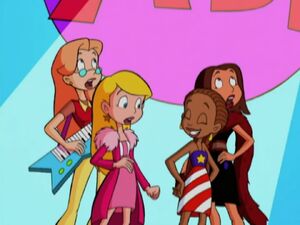 Witchy Grrrls is the 14th episode of Sabrina the Animated Series.
Plot
After forming a girls-only bubblegum pop band called Flavor Babes and losing to Gem in the talent show (she lip synced and mostly because none of them have any musical talent) Sabrina and her aunts (along with Chloe) use magic that makes them into world famous musicians. However this could cause them to break up.
Trivia
The Flavor Babes are a parody of The Spice Girls.
Weird Al appears as himself as he wrote a parody of "What's your favorite flavor" called "Electric Shaver".
During the flavor babes music video, the girls does a reference to the famous "Crossing the Abbey Road" from the Beatles, with Zelda being barefooted.